Episodes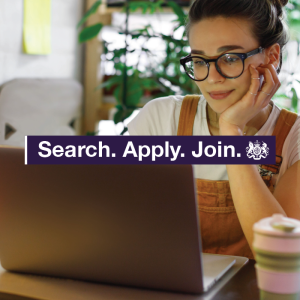 Wednesday Dec 01, 2021
Wednesday Dec 01, 2021
In this episode, Meg talks with Ruth Frost and Rebecca Strange who work in the recruitment team within the People Transformation directorate. Also, to Si Robins who is Head of Agile Delivery, working in the directorate of Digital Data and Technology (DDaT). This directorate is currently expanding massively and we discuss this during this episode, so tune in to find out if there's an opportunity to suit you. 
We're also recruiting for a number of other new roles at Companies House. See our latest vacancies on Civil Service Jobs and apply now. 
Transcript 
Megan Hayward: Hello and welcome to a new podcast episode from Companies House. Today we are talking to three exciting colleagues. So, a big hello to Rebecca Strange and Ruth Frost who work in the recruitment team within the People Transformation directorate. And, also, hi to Si Robins who is Head of Agile Delivery, working in the directorate of Digital Data and Technology (DDaT). This directorate is currently expanding massively and that's something that we're here to chat about in more detail today. So, if you're feeling that it's time for a change and flexibility is something that appeals to you, then I'd definitely suggest that you listen on. So, hi everyone. How we doing today?  
Ruth Frost: Hiya Meg, good thanks. 
Rebecca Strange: Hi Meg. Thanks for having us.  
MH: So, my first question is for Ruth. Please can you give me a bit of an insight into your role? And what you do and how that helps to shape Companies House.  
RF: Yeah, Meg. Yes, of course I can. So, my name is Ruth and I've been at Companies House for almost three years now, and I work in the recruitment team. So, I am one of our recruitment managers and I have the real privilege of being able to advertise some of our great roles. We have a lot to offer at Companies House. As you said earlier, Meg, we've got lots on offer at the moment and hopefully, there's something for everybody, whatever area of work you're interested in. I think we probably can guarantee we've got something for you. If it's not out currently, keep an eye on things that will come out in the next few weeks and months. I have the real pleasure of being able to just see people through that recruitment journey from initial applications, through to interview and through to bringing our new starters into our business and really helping them feel part of our great culture and all that we've got to offer at Companies House.  I also have another role within the organisation and I am one of the chairs of one of our great employee networks. That's something that we do in Companies House to really make sure that everybody's voice is heard, we've got real representation across our inclusive and diverse group of staff. And I am chair of our Working Families Network. So I help to represent the voice of Working Families around the organisation. So yeah, that's me.  
MH: Thank you Ruth. That's really great. That's really good insight. I didn't know some of that. So that's really, really good. Si, I'd like to come to you next if I can.  
Si Robins: Yeah, sure can. Thanks. I'm Si, I'm the head of the Agile Delivery Profession. Indeed. As you said so, a big part of my role is working with and supporting our agile delivery managers in leading their teams in delivering Digital Services. They're services that are used by businesses and our colleagues, when doing all the filings that they need to do to comply with legislation. I'm also head of our community of practice at our agile community and that is aimed at delivering best practice in how we do agile delivery. We use the scrum framework if you're in the know, but also helping colleagues across Companies House, benefit from agile ways of working. And then, third thing is, I work closely with all the other heads of profession to a strategic level on things like capacity planning, so we make sure that we have confidence in delivering our commitments, in our portfolio. But also we're doing it in a sustainable and healthy way. That enables our people to learn and grow during the process and that's me.  
MH: Well, that's great. Thanks, Si. I'm going to bounce back to Ruth for my second question. So, if I was somebody looking for a new job at Companies House, how would I go about it?  
RF: Thanks, Meg. So, there are various places that we advertise our jobs, but first and foremost, I'd recommend that anybody looking for a job for us goes and has a look at a website called Civil Service Jobs, you can find it very easily type 'Civil Service Jobs' into Google and it will be the first one at that it brings up for you. Civil Service Jobs is where you'll be able to find all jobs in Companies House advertised. And it's great because you can set up automatic searches on there. So, if you're interested in a job located in Cardiff, which is where our main office is, you can put that as a search parameter in and it will show all jobs within that area and really recommend that you do search on there because it can really just help they come into your inbox every day because you haven't got to go back and check the website. We also advertise our jobs on sites such as Indeed or LinkedIn. Again, if you're somebody who uses LinkedIn, I would really recommend that you start following Companies House. We post a lots of great content on there, not only our jobs, but also other things about the great stuff we're doing as a business. It's just a great place to find out a bit more about what we are about as part of Companies House. Equally, if you are somebody who does enjoy social media, follow us on Twitter or on Facebook, as from time to time, we do post some of our jobs on there as well. So that's where I'd start off and as I said, we've got so many jobs and offer at the moment. The really is something for everybody. And so maybe if you're looking for a role in DDaT, which is where Si works, you'll find loads of opportunities on offer with us there. But if you're somebody who's looking for, maybe a bit of a change in career, something a little bit different. You'll be able to find so many different opportunities on there. Click on our job advert, have a read though. They have got a wealth of information in there. There is so much that job advert will tell you about the role about the responsibilities. What the first six months in the role might look like kind of things we're looking for you to be able to demonstrate in your application, in terms of your skills, your experience, all that sort of thing and really useful and it could if you've ever got any questions and we'd really encourage you to reach out to us, our contact details are in our adverts, drop us a quick email, any questions you've got? We're always happy to help. Hope that answers your question for you, Meg. 
MH: That's amazing. So much, detail in there on how to go forward Ruth. That's great. My next question is for Rebecca and where the key areas. We are looking to recruit.  
RS: Hiya, Meg. Yep, great question. And the answer is sort of all of them really. So, we're recruiting across, pretty much all of our directorates right now and plan to be, definitely going into the new year as well. It's key to know as well. We are recruiting across all of our locations. So that could be Cardiff, Edinburgh Belfast. We are offering some fully remote contracts as well. They tend to be more focused within the digital teams and most of our roles that the minute will be potentially aligned to an office but with a hybrid way of working. So, basically like the rest of us are at the minute, you will be spending time at home working and you will spend some time in the office doing collaborative teamwork and that kind of thing. We've got a number of roles that were recruiting for at the minute in our Customer Delivery Directorate (CDD). So that's essentially our operations team. If you like, they are the people who manage what we kind of refer to as the birth, life and death of a company. So, everything from setting up a company and registering that company with us, right the way through to closing down a company and everything that comes in between those two points. Those are our teams who work really directly with our customers, making sure that our registers are up to date and everything that needs to be recorded is. We've got a lot of recruitment happening there. It's one of our largest directorates so it does tend to be consistently quite busy actually. Ruth who's with us at the minute managers that area in terms of sort of partnering with them, so she will definitely second that we are focusing at the minute a lot on the Intelligence and Enforcement (I&E) area of Customer Delivery. That's a new area of responsibility for us. So, they really interesting roles, really exciting. They would be really key to a lot of people to have a look at. So, I'm sure Ruth might come in at the end of this and give us a little bit more insight into what that looks like. Other than, though we have roles in our Finance and Commercial areas at all levels as well. So even just at the moment, we've got roles at Finance Officer level, Team Leader level roles where we're looking for people who are a little bit further on in their careers, qualified accountant positions. We're hiring across our Estates and People Transformation teams. That's what we sit as Recruitment and HR. Within that area, we've got teams like change, continuous improvement, organisational development, it covers a huge breadth of skills that we would be looking for then. And then we've also got roles in Strategy, Policy and Communications. A lot of those are super exciting. So, I've just had a meeting with one of our senior team members in the comms side and we're looking for a Head of External Affairs soon, that's going to be going out to market and always, always always DDaT, that kind of digital area such a key focus for us, so much growth there. So that's one that comes up every single time, we're always looking for great digital professionals to come and join us. So yeah.  
MH: Thank you Rebecca. That's really interesting. So much content there. That's really exciting about what's upcoming. My next question, I'm going to go back to Rebecca. Can we talk a little bit about the flexibility at Companies House and what that means to us and how it's part of our identity.  
RS: Yeah. Yeah. Definitely. I'm really, really happy to speak on this because for me, personally, it makes such a difference to my life, to my well-being and to how I'm able to kind of juggle, life at home and life in work. From that personal perspective, I'm a single parent. It's just me at home, my kids are six and nine. So, I've got loads of responsibilities outside of work as well as in. That flexibility that we're given within Companies House, and I think crucially, the fact that we're trusted as individuals and as grown-ups to set some of those parameters means that I can do the school run, I'm able to drop the kids off every morning, I pick them up on a Monday and a Friday. I can use my flexi time, which means if I start, if I pick up an extra 20 minutes somewhere, it means that if I need to finish up a little bit early or start a little bit later another day of that week, then I'm able to do it and it really feeds into that piece. You'll hear us talk about it a lot at Companies House about bringing your whole self to work. For me that means I'm bringing myself to work, I'm great at my job. I've got a fantastic team around me, but I'm also a single parent and there's no requirement to leave that at the door, that forms part of who I am. It forms how I work and how I do my job. That's absolutely not just accepted by my managers, but it's really embraced, so that flexibility in how we work means that whatever you have going on outside of work, whether it's caring for relatives, it could be that you volunteer somewhere, it could just be that you love the gym and a particular class that you really want to go to starts at four o'clock, instead of five. It just means that you can. All of that great stuff outside of work that makes you calm and happy and centered and focused that can still very much kind of carry on alongside your job.  
MH: Thank you so much. Rebecca. That's the best answer I think you can give. I've just got to say that I second all of that. And my last question, I'd like to hear from everyone, so if I start with Si, can we talk about what working at Companies House means for you?  
SR: Yeah, so for me, it's about respect and it's just the fundamental respect for being a human being that just seems threaded throughout everything that we do. That leads to great things like our networks that we have, that care and support for people with all kinds of challenges in balancing their work and life. Personally, I'm a part of the Mental Health Advocacy Network. And, you know, coming to Companies House May, 18 months ago, was part of me feeling, like I was fixing my mental well-being. I've been able to do that so successfully Companies House for many of the reasons that Rebecca mentioned. And I think it's just every day that I come in, whoever I work with, I have this really strong sense that they care about me and I care about them in return. Then to top it all off, I think it's about how we all then care for the users of our services. So, for businesses, how important it is for businesses to be able to interact with Companies House Services, in an efficient, and effective way, because we want them spending time growing their own business and being successful. That's what we want. So, I think, for me, respect and that care is threaded through every single bit of Companies House.  
MH: Thank you, Si. That's amazing and Ruth.  
RF: Absolutely. So I think, for me, it's couple of things that have already been mentioned, really. So, for me, flexibility is incredibly important. It's that ability to be able to do a great job when I'm at work, but not feel that that is pulling me away from other responsibilities I have elsewhere in my life. It's that flexibility to be able to work in the way that absolute works for my team, but the way that also absolutely works for me.  
It's about the great people around me at Companies House who make it just such a positive experience to come to work each day. But, it's also about being able to work in an environment where it's safe to challenge, it's safe to ask questions, it's safe to say "Well, why do we do this like this? Could we do this differently?" and you know that your voice will be heard. To work in an environment where your voice is heard and your opinions are taken on board and your thoughts are listen to, that just makes such an incredible difference and you feel really valued for that and that for me is really, really important. Thanks, Meg.  
MH: Thanks, Ruth. And Rebecca, lastly I'd like to come to you.  
RS: Yeah, definitely. And exactly like Ruth said, everything that I've just heard from both Ruth and Si, I couldn't agree with more. And, I think one of the key things for me because it was such a change when I joined Companies House, which is around about two years ago now. I joined from the private sector and what I discovered was just this renewed passion for my role. I felt like I'd where I'd been previously, I'd hit a brick wall. I wasn't challenged anymore. I wasn't given opportunities anymore, and, just I'd lost my passion. And then I joined Companies House. I'm given opportunities. I'm supported within those opportunities.  
I'm encouraged to, you know, come with ideas and try new things. And I just love that. It's absolutely kind of reinvigorated my professional life to be completely honest.  
And yeah, just the endless support and empathy that you get from everybody around you. And that goes from Louise our CEO. And, you know, I don't just say that because it's what people say, you genuinely you see it in her, you hear it from her. It's so authentic. That translates down the kind of throughout the organisation. I show it to my team. My team show it to me. Yeah. So yeah. Yeah, that's it for me. 
MH: Thanks again Rebecca. And thank you to all three of you. that concludes my questions for today. Honestly, the contribution there was fantastic. I hope our listeners have gained a good Insight today into what a career might look like at Companies House. You can see all of our latest vacancies on civil service jobs, like Ruth said earlier. It's a great time to start designing your own time with a career at Companies House. Please don't miss on new opportunities and remember to search and apply through civil service jobs, and hopefully we'll be seeing some applications from our lovely listeners very soon. Thank you. Bye, everyone.